About Us
It started with an apple…..
…. And a group of fans!!
The Puertorican Twilighters or PRT as we usually nicknamed it had its beginning in a Facebook page of Puertoricans who liked and enjoy the Twilight book. A New Moon book discussion was posted on FB and we all actually met for the very first time at Borders at Plaza Escorial, Carolina. From here a group of very enthusiastic girls decided to form a group on Myspace and that is how the Puertorican Twilighters group came to life on July 15, 2008.
We all have read the books and were raving about the upcoming Twilight movie. We started organizing activities with Borders at that time. We did various book discussions over the summer. We all went and bought The Host and raved about it and discussed it. But the most important event of that summer was the Midnight Release of Breaking Dawn. We all were present at Borders to help them in the activities that were planned for that AWESOME night. Members of all over the Island came to meet us and hang with us in this most anticipated night. We even have our very own Cullen Kids, which is a group of fans that dressed up like our favorites characters of the books. The Cullen Kids have expanded into the Wolf-Pack, the Volturis and the Nomads, so they have everyone. Our page was the only one at that time and we had over a 1,000 members and still going strong.
Breaking Dawn was released and we discussed it as a group, of course. We still needed more Twilight-related event so we had our own Stephenie Meyer's day on September 13, 2008. For the Twilight movie premiere most of the fans came with us to watch the first showing of the movie; we were all shouting and going ga-ga over whom else: Edward.
2009 came and we were preparing ourselves for the major event of spring, the release of the Twilight DVD. We helped Borders in the planning and organizing of activities for the Midnight Release of the Twilight DVD. We had a singing sensation from Ponce, a fan-duo that sang for us Twilight-related songs from the Mitch Hansen Band (they gave permission and they were overjoyed) and one of their one, which is EPIC (Bite Me – By Yaletza and Dorimar)
There were others who tried to copy us, but we are NUMBER 1 and STILL are. We recently celebrated our 1 Year Anniversary (7/13/09)has a group, we even had cake… and that is why we decided it was time to go big and have our own website for all Puerto Ricans and all others who love Twilight has much as we do.
November 2009 – We helped and sold tickets for the "New Moon" Premiere in Puerto Rico, hosted by St. John's School (Condado)
April 24-25 2010 -  We helped in the Promotion and collaborated on the Meet & Greet Chaske Spencer Event, hosted by Puerto Rico Comic Con
June 29, 2010 -  We helped and sold tickets for the "Eclipse" Premiere in Puerto Rico, hosted by Jose Jaime Pierluisi Foundation
July 31, 2010 – UPDATE: We have just celebrated our First (1st) Year  as a website! Yay to Us!!
P.S. I am not naming names because I want to preserve the privacy of the Group's Administrative Personnel, but you know who you are and you know you ROCK!!!
Every group is made-up of awesome people and we have the BEST of the BEST!
Email Us @ admin@puertoricantwilighters.com
——————————————————————————————————————————
Sobre Nosotros:
"Todo comenzó con una manzana….
 … y un grupo de fanáticas"
Los Puertorican Twilighters o PRT apodado por nosotros, tuvo sus principios en una página de Facebook de Puertorriqueños a quiénes les gustaba el libro de Crepúsculo ("Twilight"). Una discusión de libro de Nueva Luna ("New Moon") fue fijada en FB y este fue nuestro primer encuentro como grupo en "Borders" de Plaza Escorial, Carolina. De aquí un grupo de muchachas muy entusiásticas decidió formar un grupo en Myspace y así es como el grupo de los Puertorican Twilighters cobró vida el 15 de julio de 2008.
Hemos leído los libros y delirábamos sobre la película de Crepúsculo que próximamente iba a hacer presentada. Comenzamos a organizar actividades con "Borders" en ese entonces. Hicimos varias discusiones de libro a lo largo del verano. Fuimos y compramos La Huésped ("The Host") y deliramos y hablamos del libro. Pero el acontecimiento más importante de aquel verano era el Lanzamiento de Media Noche del libro Amanecer ("Breaking Dawn".) Cooperamos con "Borders" para ayudarles en las actividades que fueron planeadas para aquella GRAN y ESPERADA noche. Los miembros de todas partes de la Isla vinieron para encontrarnos y estar con nosotros esta noche tan esperada. Hasta tuvimos a nuestros propios "Cullen Kids", que es un grupo de fanáticos que se disfrazaron como nuestros personajes favoritos de los libros. Los "Cullen Kids" han ampliado en: la Manada de Lobos, los Volturis y los Nómadas. Nuestra página era la única entonces y teníamos sobre unos 1,000 miembros.
El lanzamiento del libro Amanecer fue todo un éxito y luego de varias semanas pudimos tener nuestra discusión del libro como grupo. Todavía necesitábamos más acontecimiento relacionados con Crepúsculo y fue cuando decidimos celebrar nuestro propio día de Stephenie Meyer el 13 de septiembre de 2008 (El cumpleaños de Bella Swan y Stephenie Meyer). Para el estreno de película Crepúsculo la mayor parte de las fanáticas estuvieron con nosotros para la primera tanda de la película; teníamos una algarabía increíble en la sala y sobre todo por quien más: Edward.
2009 vino y nos preparábamos para el acontecimiento principal de la primavera, el lanzamiento en DVD de Crepúsculo. Ayudamos nuevamente a "Borders" en la planificación y la organización de actividades para el Lanzamiento de Medianoche del DVD de Crepúsculo. Teníamos unas "artistas sensacionales" de Ponce, un dúo de fanáticas quienes cantaron para nosotros canciones relacionadas a Crepúsculo de la Banda de Mitch Hansen (ellos dieron el permiso y estaban emocionados que lo hiciéramos). Además el dúo cantaron una canción de su autoría, la cual fue ÉPICA ("Bite Me" /Muérdeme – Por Yaletza y Dorimar)
Habían otras páginas que trataron de copiarnos, pero somos el Número 1 y TODAVÍA somos. Recientemente celebramos nuestro Primer Aniversario como Grupo (el 7/13/09), hasta teníamos un pastel… y por eso decidimos que era el tiempo para estar en grande y tener nuestro propio sitio Web para todos los Puertorriqueños que le encanta Crepúsculo como nosotros.
Noviembre 2009 – Ayudamos y Vendimos taquillas para la Premiere de 'New Moon' en Puerto Rico, auspiciada por el Colegio St. John's (Condado).
Abril 24-25 2010 – Ayudamos en la Promocion e colaboramos en el Evento de Chaske Spencer en Puerto Rico, auspiciado por Puerto Rico Comic Con
Junio 29, 2010 – Ayudamos y Vendimos taquillas para la Premiere de 'Eclipse" en Puerto Rico, auspiciada por la Fundacion Jose Jaime Pierluisi
Julio 31, 2010 – NOTA:  Acabamos de Celebrar nuestro Primer (1er) Año como una página! Yay para Nosotros!
P.S. ¡¡No divulgamos nombres porque queremos conservar la intimidad del Personal Administrativo del Grupo, pero ustedes saben quienes son y saben que son de lo MEJOR!!!
¡Cada grupo esta constituido de la mejor gente y tenemos los MEJORES DE LOS MEJORES!
Escribenos a @ admin@puertoricantwilighters.com
Why the "Coquí"?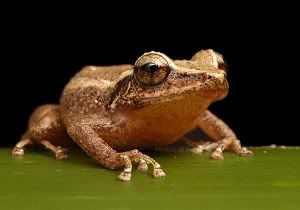 The Puerto Rican coquí is a very small – tiny – tree frog about one inch long. Some coquíes look green, some brown and some yellowish – actually they are translucent. Coquíes have a high pitched sound and can be heard from far away.
The coquíes begin to sing when the sun goes down at dusk. Their melody serenades islanders to sleep. Coquíes sing all night long until dawn when they stop singing and head for the nest. Puerto Ricans love their coquíes and have written poems, stories, and Aguinaldos about them. The male coquí sings – not the female.
Puerto Rican coquíes have relatives all over Latin America. The coquí genre is found in all the Caribbean Islands, and in Central and South America. But again, the only ones that make the sound "co-quí" are Puerto Rican.
The scientific name for the coquí is Eleu-thero-dactylus, characterized because they have no webbed toes. There are 16 different species in Puerto Rico and all of them have padded discs at the end of their toes which helps them climb. Coquíes are classified as amphibians – a grouping for cold blooded vertebrates that includes frogs, toads, or newts -that are able to live in both water and land.
Wanna hear?? coqui
Where is Puerto Rico??

>Puerto Rico is an unincorporated territory of the United States located in the northeastern Caribbean, east of the Dominican Republic and west of the Virgin Islands. (Caribbean Sea)
Puerto Ricans often call the island Borinquen, from Borikén, its indigenous Taíno name.(The Taínos were the first habitants of the Island way, way back) The terms boricua and borincano derive from Borikén and Borinquen respectively, and are commonly used to identify someone of Puerto Rican heritage. The island is also popularly known as "La Isla del Encanto," which translates in English to "The Island of Enchantment." Compared to U.S. states, it is larger than Delaware and Rhode Island combined, but slightly smaller than Connecticut.