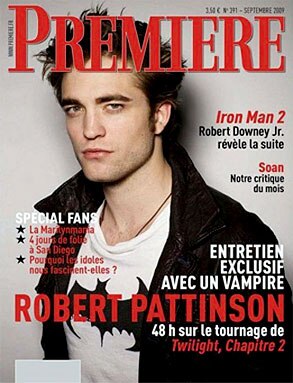 Premiere Magazine
Robert Pattinson's luscious locks grace the cover of France's Premiere magazine, and he reminds us why we're all so in love with him in the first place…just in case you all may have forgotten. Thinking of Rob gave us an English translation of his interview, and trust, Rob's personality is not lost in translation.
R.Pattz says Cannes was when he realized he was finally a star. "I was in a restaurant during a break, and when I came out two hours later, 500 people were waiting for me at the exit. It was total chaos. I'm sure that if I told one of those girls 'come, let's go have breakfast,' she would have been totally embarrassed and would never scream my name again."
Uh, think again, Robby. But can't say we don't fall for his charming "I'm really not that cool" spiel every time.
Our fave vamp does admit, though, with all this fame he came "close to losing" it last spring. Did Kristen Stewart talk ya out of it?
Says Rob: "I was getting really paranoid. If tomorrow I say 'OK, I've had enough we're stopping everything' it won't change anything. Might as well try to accept it and stay Zen as I have no control over it. It's not always easy. But whining won't change anything."
Must say, it's refreshing to hear a celeb not complain about being famous. Rob knows it comes with the job, and this is why Robsten totally works.
Rob and Kristen are both incredibly private people who are dealing with the same overnight-sensation fame?way more than anyone else in the cast, Taylor Lautner included. Kristen has even admitted to Marc Malkin that she and Rob have greatly leaned on each other for support (back when their romantic endeavors were way more covered up, mind you…No wonder Rob almost lost it). So if that interview looks familiar, it should. It was done back in March, not recently as many sites are claiming.
R and K will always have a special relationship, even if gasp it's not always romantic. But don't worry Twi lovers, no news is good news. We hear everything is still calm up north, and we have no reason to believe Robsten is in some big dramatic fight just because K was MIA for a cast dinner. K.Stew will never be the needy girl, always having to go places just because Rob is. They are both independent people?that's why they work!
As for R.Pattz, his superbusy filming schedule over the next year will take him to Paris and far away from Kristen. But we hear Robsten is going to take it as it comes. They have no grand plan and are just enjoying being together. Love their chill lifestyle. It means they actually have a chance at surviving.
Related posts: